The club started in 1987. In the early years the music was a combination of all kinds of musical styles, including New Beat.
As time went by, the music shifted more towards club, house & dance. Since 1993 Illusion only played house-music. To be more specific: trance, hardtrance and a mixture of the best retro and happy tracks.
Illusion's style was appealing yet non-commercial clubmusic. Illusion always tried to create new stuff, to be trendsetting. This unique style of music and the cd's were known all over the world.

DJ's Kevin, Tofke and Jan were originally the resident DJs. For a short while Yves Deruyter and Franky Kloeck joined the team. Illusion was no longer a local club… People came from all over Belgium and the surrounding countries to enjoy the unique style of music.
Afterwards, DJ's Wout and Philip joined the team. Illusion was always looking for new talents who later moved on to the Saturdays or to other clubs. DJs Christophe, Kurt, Jean Delaru, David, Nico (Morano), Kane and later on Stijn VM, David DM, Chiq and many others were launched in this way. Every week illusion was packed and it was time for expansion.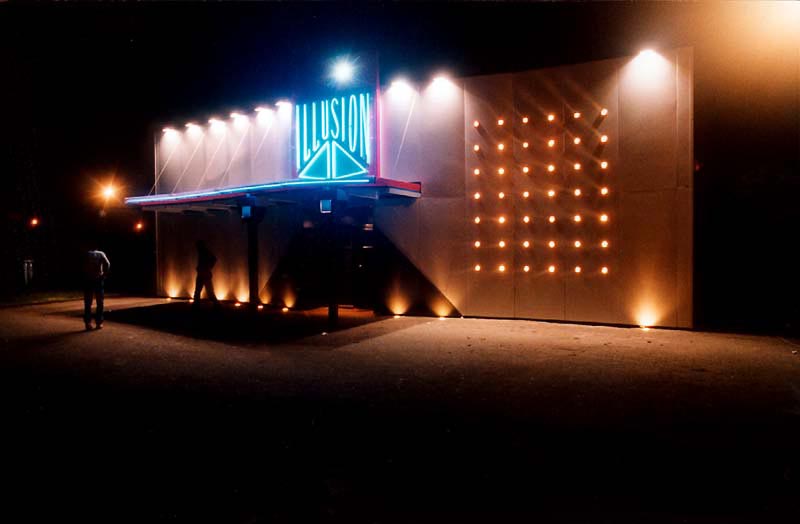 Illusion was also well-known for the full in- and outdoor decorations: the club was fully transformed into the theme of the decoration.
This added to the legendary unique status of the club because it was the only club who managed to do this…
Some legendary themes: Horror Castle, 1001 Nights, Water Mountain, Mystic Pyramid, Illusion busters, Space Odyssey, Garden of Eden, Inca Fever, American Wild West, Ice Rocks, Chinese Forbidden City Decoration, Soirée Noël and many many more…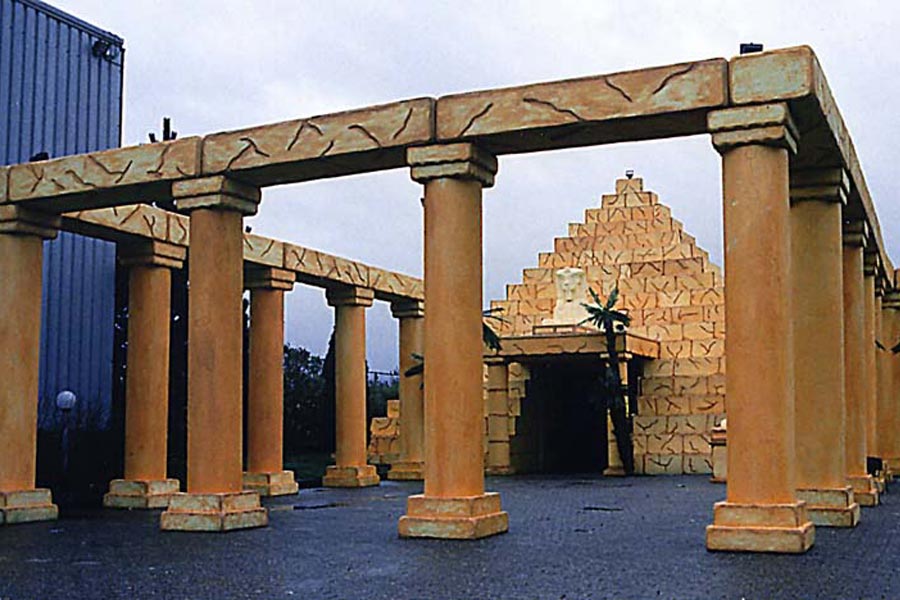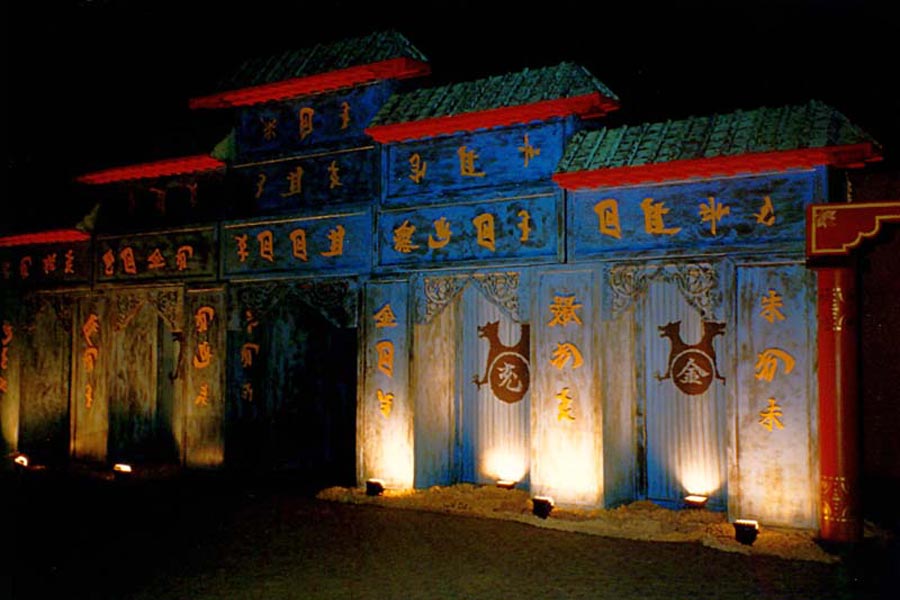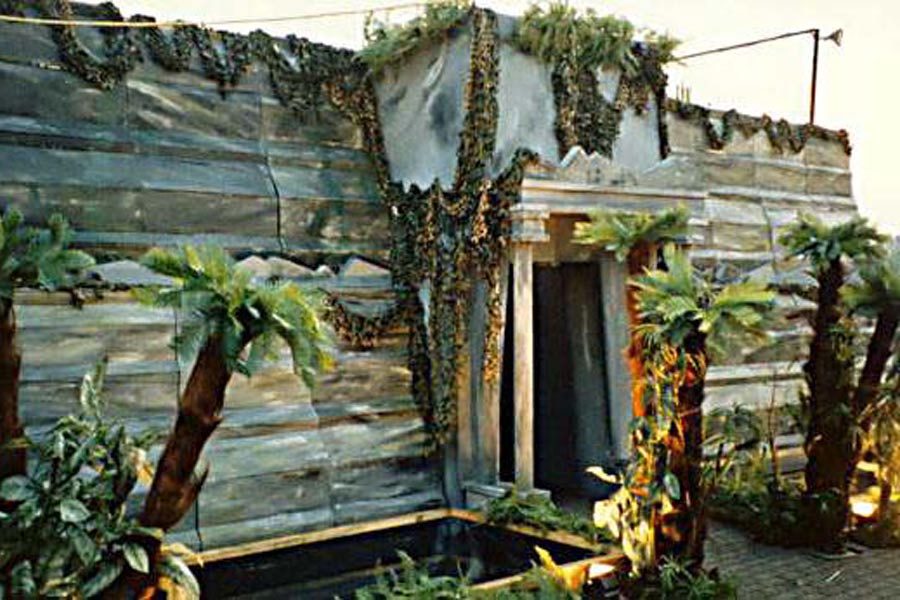 On May 21st 1999 Illusion reached a new Milestone with the opening of "the Level": Illusions second level. It was one of the first real "house" clubs in Belgium.
The level quickly became a success thanks to its unique mix of groove, club and house with a hint of trance music. 
Regi and Wout provided the musical interpretation . When they got too busy due to their successes with Milk Inc. and Sylver, Christophe and David gladly followed in their footsteps. Later on David retired and was followed-up by Seelen and Nico (Morano).
Thanks to the popularity of the club and its well-known DJs who made remixes for the greats such as Tiësto, Illusion – back in 1999 – was the first Belgian club to be allowed to participate in the legendary Love Parade in Berlin. (more than 1.500.000 visitors that year!)
This made for a true migration of Illusion fans towards Berlin and a lot of unforgettable memories.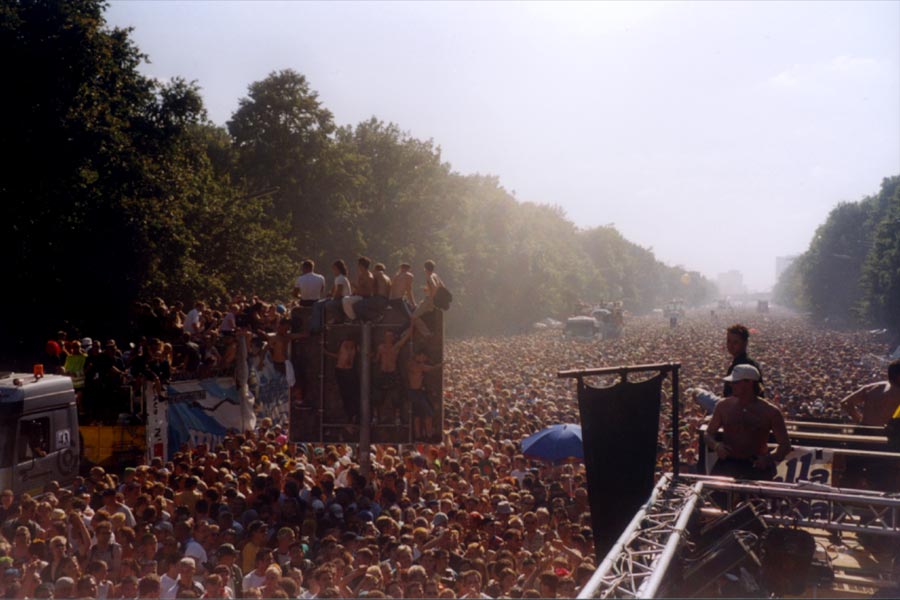 In 2000, Art-Group Music (AGM), a sister company of Illusion, was born. With Regi (from Milk Inc.) as studio technician, a multitude of classics were made in this studio, including a lot of work by Jessy (Look @ Me Now), DJ Philip, Flesh & Bones, DJ Wout, DJ Jan, Trancelucent, Rego & Philippo, Systematic Parts, K-Lab, Jopan, Jan Vervloet, Tiny K, Subsunday, Vidts & Vandueren, Illusion 001 and many others.
These tracks were released on different labels: Illusion Recordings, Oceanic Recordings, Impressive Records, Revelation, Trance 'n' Dance, Retro Recordings and Sookie Neverending Beats.
The International Tuning Sounds-cd's (with the best jump music) and Trance 'n' Dance were also released by AGM.
The illusion compilation CDs were from now on made in-house and that ensured that they grew into the largest club CDs in Belgium.
The studio was previously also responsible for the productions of countless hits such as Sylver, Milk Inc., Aqualords and La Luna.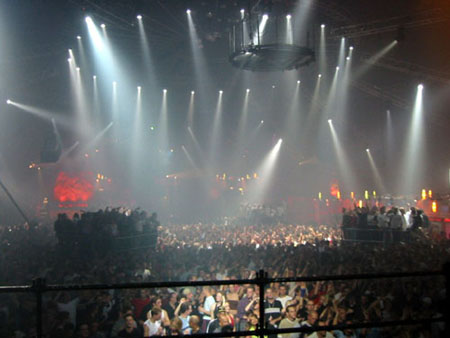 2002 was an unforgettable year for Illusion: Illusion's first participation of the Cityparade, the start of the legendary Illusion at the Beach parties and the annual Birthday Parties in the Antwerp Sportpaleis.
With the immensely popular DJ Tiësto (who used to come to the club as a customer) as headliner, Illusion immediately created an unforgettable atmosphere and the Sportpaleis was transformed into the biggest club of Belgium! Tall Paul, Sister Bliss (from Faithless) and many more headlined this big celebration Party.
5 Big anniversary parties in total were held at the Antwerp Sportpaleis: 15 years Illusion, 16 Years Illusion (with Armin Van Buuren, Chicane,  Robbie Rivera), Illusion Re:Activated (with Marco V, Airwave, Mike Koglin, Sharam Jey, Robert Armani and Jan Johnston from "Skydive"), 18 Years Illusion (again with DJ Tiësto) and finally 19 Years Illusion (again with Armin Van Buuren)
Illusion at the Beach started at the Casino of Ostend and was an instant succes. Later on the event was re-located at Hangar 1 in Ostend. The closings at the outdoor area with the sun rising were in one word: unforgettable!
DJ's (next to the Illusion dj's): DJ Tiësto, Marco V, Marcel Woods, François, Jon O'Bir, Johan Gielen, Mason, Ferry Corsten, Push, Aly & Fila, Funkerman, Cor Fijneman, Mark Norman, Ton T.B. (Three Drives), Dark-E and many more.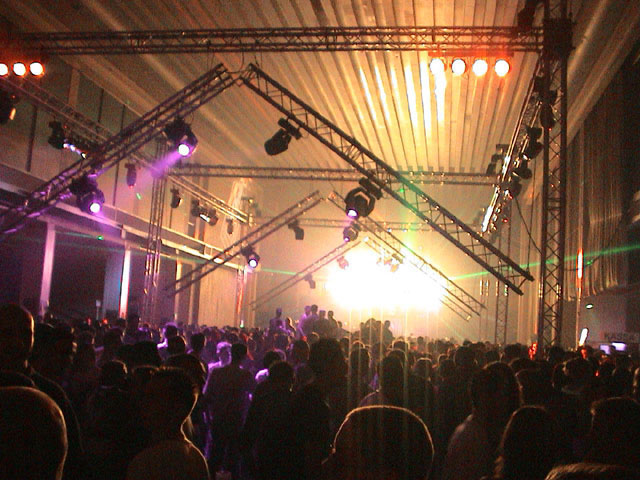 In 2003 the club was closed for 18 months after a police raid. Fortunately – after the re-opening – , the club was able to stay at the top of the Belgian club scene for years to come.
In 2004 Illusion bought Boccaccio Life in Halen (Limburg) and Delite was born. With DJs Jan Vervloet, Wout, Regi, Gert, Chiq, Tom, Denny, Jimmy Goldschmitz and many others, the illusion music – or "a bit" more commercial – spread further across the country. The Delite residents often also played in Illusion on Fridays, bringing a more commercial form of house music. During this period the immensely popular concept "Kick Da Bass" was born. With the best hard dance, hardstyle, tek and jump it is one of the longest running concepts in that genre today.
After the closure of Delite in 2008, some of the Delite DJs, such as Jan Vervloet, were taken over by Illusion and they continued to play until the end of the club and afterwards of course also at the reunion parties.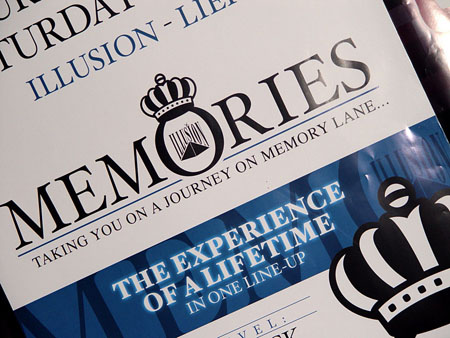 Unfortunately, clubs in Belgium became less and less popular. Illusion always tried to position itself as a trendsetter.
Residents (along with all other DJs) such as Yves-V, Dimitri Vegas & Like Mike and Nico Morano are proof of this, as are incredibly popular concepts such as "Memories" and "The Hype", which led to top parties in the club.
This era was also the birth of Illusion's Beachland (afterwards Beachland Festival) and the anniversary parties at studio at Ethias Arena in Hasselt with BIG names like Hardwell, Dimitri Vegas & Like Mike, Syke 'n' Sugarstarr, D.O.N.S., Yves-V and many more.
The level also scored great success with the Bar.a.Bar vs Level Classix parties in Hasselt. The sweet mix of groove and house made these evenings unforgettable.
In 2011, the building of Illusion became the focus of football club K. Lierse S.K. – due to the club's location in a recreation zone – who wanted to use the building as their players home. 
Ultimately, it was decided to house the playershome in the nearby fitness. Afterwards an attempt was made to obtain a new permit, but unfortunately it was not obtained and the club story of Illusion ended here.
In 2012 the club ended with a "Last Bang"". This epic night concluded almost 25 years of Illusion memories in Lier.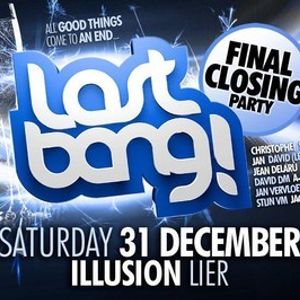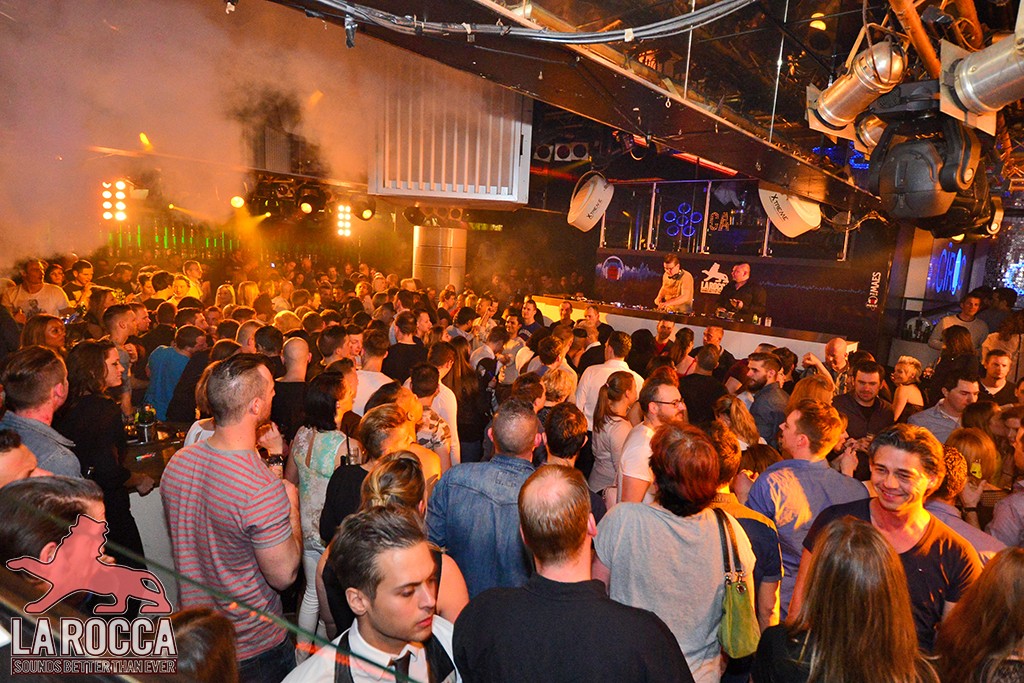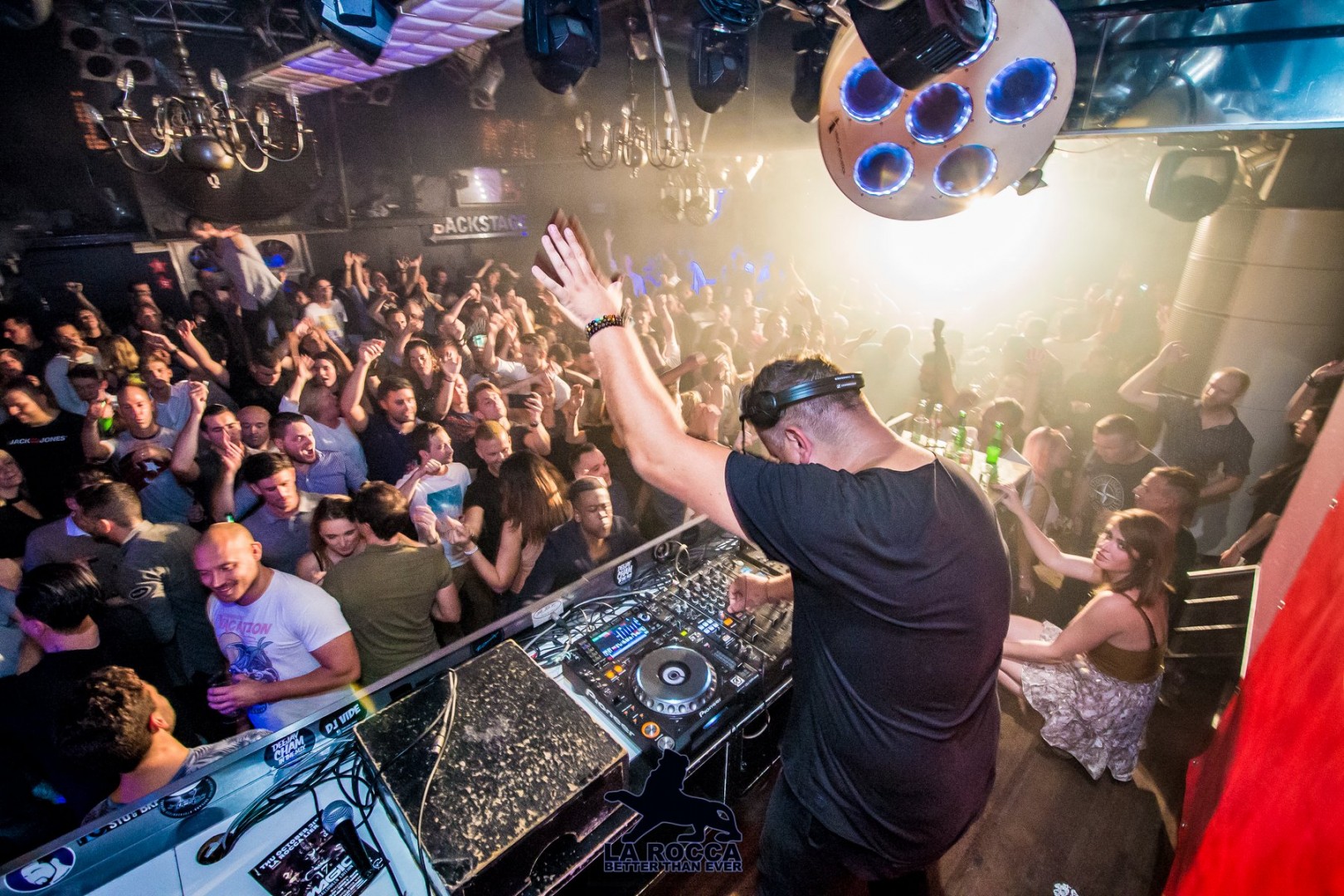 Fortunately the concept "Illusion" carried on… at (Illusion's) Beachland, in Clubs like La Rocca, Karrewiel Building and many others.
Today the vibe is still very much alive and the memories and music remain in our hearts and stay alive on these events.
Illusion was home to some of the biggest Belgian DJ's: DJ Jan, Philip, Wout, Dimitri Vegas & Like Mike, Yves Deruyter, Nico Morano, Jan Vervloet, Yves-V, Franky Kloeck, Tofke, Frank Zolex, Kevin and many more.
But also a lot of international top-dj's played at club and on its outdoor events (at Sportpaleis, Illusion at the Beach): Tiësto, Armin van Buuren, Axwell, Eric Prydz, M.I.K.E. Push, Solarstone, Chicane, Ferry Corsten and many more.